Treat your cat to a well deserved holiday!
Cats Pyjamas Cattery
Harriseahead, Stoke-On-Trent
Book Now

Environmental Health Department
Our facilities were awarded the GOLD STANDARD upon opening, making our cattery one of the best around, for both accommodation and care.

The Cat's Pyjamas is a purpose built cattery, specifically designed to meet and exceed FAB requirements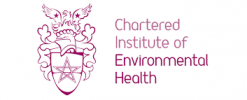 Chartered Institute of Environmental Health
Conforms to the guidelines set by CIEH and is fully licensed

The proprietor
Debbie Morgan, is a genuine cat lover having two of her own, Mowgli and Sid, and knows only too well how important it is to leave them in a safe and secure setting whilst still having the care they receive at home. Personal attention is given to each and every one of our guests no matter how short their stay.

Our Pens
Our guests each have their own indoor pen which can be used as a quiet sleeping area, plus a covered outdoor run with cosy, cushioned chair for dozing and a raised shelf upon which they can soak up the sun or just sit and watch the world go by. We provide suitable bedding for your cat, but you are welcome to bring your cat's own bed or sleeping basket to help him/her settle in.

Location
Located on the outskirts of Stoke-On-Trent in Harriseahead, we offer a peaceful location where your cat can unwind and watch our free roaming chickens, allowing them to settle in quickly. Each accommodation pen has its own heater, with separate sleeping and exercising areas. We have high standards of hygiene and supervision practices to maintain your cats health, well-being and comfort.


Our Address
Our address is: 8 Bullocks House Road Harriseahead Stoke-On-Trent ST7 4JQ
Come and visit
Opening Times
We ask that you make arrangements with us for a time that you would like to drop off or collect your cat/s.
Arrangements can be made for any time between 9:00 am and 6:45 pm.
We offer a collection and delivery service if required*
*(charges apply according to distance).
Current Pricing*
1 Cat – £12.00 per day
2 Cats – £18.00 per day
3 Cats – £26.00 per day
4 Cats – £30.00 per day
* Prices subject to change and will be confirmed upon booking.
Sizes
All pens are heated and have been built to the recommended size for two cats. We are also able to offer accommodation for families of three or four cats.
All Inclusive
Prices include everything your cat will need during their stay with us, we are happy to provide whatever food your cat likes to eat at home and we can cater for special diets.
Medicines
We are able to administer medicines to any cats should this be required.
Vaccinations
All cats must be vaccinated against cat flu and feline enteritis, an up to date vaccination certificate will need to be produced.